A type rating certification is the most important credentials a pilot should acquire if they want a career as an airline pilot. A type rating is necessary certification for flying a commercial jet. Having a type rating provides a pilot the necessary competencies to operate an aircraft and provide the pilot with a comprehensive knowledge of the systems and skills required on a specific kind of jet aircraft.
In the world of commercial aviation, the Airbus A320 (A320) is one of the most frequently used aircraft. Here we discuss why investing in an a320 type rating with AeroStar Training Services proves to be advantageous for current Airline Transport Pilots and future ATP pilots.
Aerostar Training Services in Orlando, Florida operates simulation training centers and provides aircraft type ratings, namely the Airbus A320 & the Boeing 737 Classic & NG versions. Aerostar offers Jet Transition Training, the atp ctp, and Type Ratings. AeroStar Training Services offers training courses that will allow you to navigate an Airbus 320 as well as the A318, A319 & A321 series of aircraft.

The Airbus A320 series ranked as the world's fastest-selling jet airliner and as the best-selling single-generation aircraft program. 6,157 aircraft are currently in service. Another 5,099 airliners are on firm order.
Since its first flight back in 1988, the Airbus A320 remains to be one of the most ordered and used aircraft amongst airlines across the globe. It is was the first commercial aircraft that was outfitted with the Fly-By-Wire system, catapulting the technology of then analogue pilot controls into digital electronic signals via wire transmissions.
A market-leader in the single-aisle jetliner industry and one of the best-selling aircrafts in the world, the A320 offers flexibility and improved performance. To date, Airbus has already logged over 11,000 booked orders for the A320 family. Its unique construction, consistently strong performance, cost efficiency and its high capacity for both cross-region and cross-continental flights makes the A320 a popular choice in the industry.
AeroStar is the world leader in atp ctp and Type Rating Training and is now offering an A320 Type Rating. a320 type rating Training at AeroStar provides a thorough understanding of the Airbus A318, A319, A320 & A321 series of aircraft.
Part of the process in acquiring a type rating is going through a comprehensive training course. These programs are designed to equip pilots with capabilities in handling complex aircraft systems and instruments. At AeroStar, that training includes ground school, fixed base simulator training and full flight simulator training in an FAA certified Level D Airbus A320 Full Flight Simulator.
One advantage of this particular type of training is that it not only equips pilots with advanced knowledge on flight, it also provides pilots a comprehensive understanding on the demands of the role of an airline pilot.  The AeroStar A320 simulators replicate the cockpit of its namesake and even replicate all weather operations, routes and technical problems, preparing pilots for everything they can expect in their future careers.
An a320 type rating facilitates easier transition to a different type. The various aircrafts in the Airbus family share a number of similarities in terms of cockpit layout, handling characteristics and system operations. For example, a cadet with an a320 type rating would find it easier to cross certify over to the double decker Airbus A380, which is primarily used for long-haul flights.
Airbus has also developed its own Cross-Crew Qualification (CCQ) concept that enables pilots to transition from any Airbus fly-by-wire equipped type to another simply through difference training. With the effective planning and implementation of the CCQ difference training, a transition from an A320 to the A380 would take a mere 13 days. With this, airlines can maximize operations as a result of reduced transition training period and costs.
With the significant increase of airlines ordering Airbus fleets by the bulk, having an a320 type rating is more important than ever. The a320 type rating ensures that pilots remain relevant and have the opportunity to pursue successful careers in the ever-expanding aviation industry.
AeroStar offers the A320 Standard Type Rating which is perfect for the first time jet pilot or those who prefer the benefit of instructor lead classroom training. The course requires approximately three weeks to complete and includes 9 days of ground school/labs with a blend of lecture, virtual flight, and CBT training.
1 level 5 FTD procedures integration session (four hours per crew)
5 level D full flight simulator sessions including LOFT (twenty hours per crew)
1 oral & practical exam in a level D simulator by an in-house evaluator (four hours per crew)
AeroStar offers the A320 Fast Track Type Rating for those pilots who have previous jet experience and or those who need to get their training done with fewer days away from family and work. This course requires approximately 10 days on site to complete and includes:
56 to 72 hours of cloud based aircraft systems instruction via distance learning software
3 days of ground school – includes a blend of lecture and virtual flight
1 level 5 FTD procedures integration session (four hour per crew)
5 level D full flight simulator sessions including LOFT (twenty hours per crew)
1 oral & practical exam in a level D simulator by an in-house evaluator (four hours per crew)
(A320 Fast Track Type Rating students must meet eligibility requirements)
AeroStar offers the A320 Upgrade or Foreign License Conversion for pilots with three hundred hours or more recent experience in type or those who possess a foreign PIC type rating. This course can be accomplished in approximately 9 days and includes:
5 days of ground school – includes a blend of lecture, virtual flight, and CBT
1 level 5 FTD procedures integration session (four hours per crew)
3 level D full flight sim sessions including a LOFT (twelve hours per crew)
1 oral & practical exam in a level D simulator by an in-house evaluator (four hours per crew)
AeroStar offers the A320 PIC / SIC Recurrent Proficiency Check for pilots who require an annual proficiency check or just want to refresh their skills. This course can be accomplished within 2 to 3 days and includes:
1 day of ground school – includes a blend of lecture, virtual flight, and CBT
4 hours level D full flight sim sessions (includes proficiency training and check)
Tailored recurrent programs are available upon request ranging from two to five days.
AeroStar offers the A320 ATP – CTP for pilots looking to complete their ATP written exam. This course can be accomplished in approximately 7-9 days and includes:
4 days of ground school – includes a blend of lecture, virtual flight, and CBT
4 hours of level 5 FTD per crew in the A320
6 hours of level D full flight simulator per crew in the A320
Note – The Airline Transport Pilot Certification Training Program is an FAA mandated prerequisite prior to accomplishing the ATP written Exam
Pilots with an a320 type rating will usually end up being hired almost immediately with an airline or possibly the A318 business jet version. A320 pilots are very passionate about their profession and love flying airplanes.  Of everyone I know in all kinds of different professions, no one enjoys their job as much as I do.  And likely, if you do meet your career aspirations of becoming an airline pilot, you will realize the same thing.  There are few things better in life than going to work and actually enjoying what you do.  The job is always different, it's stimulating, interesting, and can be extremely rewarding.  Frankly, it's probably one of the coolest jobs anyone could ever have short of being a brain surgeon or an astronaut ????
The schedule flexibility, especially the flexibility afforded to senior A320 pilots, can be extremely beneficial. Airline pilots don't work the typical 9 to 5 schedule that many other professionals work.  Very often, pilots have groups of days where they are "ON" and have groups of days off where they are "OFF."  The quantity and the quality of these ON/OFF days are usually determined by one thing- seniority.  A moderately senior pilot can have sometimes 18 days off, with these days off grouped together in a manner that would allow weekends and holidays off, or perhaps long stretches of time off by grouping "OFF" days together.   There are very few jobs that offer that type of flexibility.  Of course, you have to be senior enough to take advantage of these scheduling abilities.
For lower time ATP or Airline Transport Pilots pay is very low, especially during the early several years of one's career with a regional airline. However, for Airbus A320 pilots, the career can be very lucrative.  It is possible, after many years of service, to earn high salaries sometimes well north of $100,000 per year.  Some airlines still have pensions, now becoming extinct in other industries, so becoming employed by one of these carriers could be financially beneficial to your retirement.
If you love to travel, then flying the A320 is the job for you.  Not only will you have the opportunity to "see the world" on your company's dime as you "work for the man" as an Airbus A320 pilot, but you also will enjoy travel benefits, like inexpensive space available seating to wherever your airline flies, or discounted airline tickets for you, your family, and your parents.   Now I'll be the first to tell you that the travel benefits aren't as good as they used to be just 10 years ago, but for the most part they are usable if you travel smart.  And if you're traveling alone as a pilot, you'll have access to the jump seat(s) in the cockpit of both your airline and other airlines, usually for free.  With this benefit, you can travel virtually anywhere in the world on your own.
Just as pilots usually love their jobs, you'll find that the other professionals you work with enjoy theirs, too.  You'll meet many different people, cultures, and their associated ideas.  There are few things more enjoyable than flying with a group of people who love their jobs and the airline biz.
Since pilots can fly very inexpensively on their own airline, or use the pilot-exclusive cockpit jump seats on their own carrier or just about any other carrier for free, many pilots choose to live outside of the city they are based in with their airline.  For example, a Chicago based pilot could live in Florida if he or she desires.  As long as the pilot allows enough time to fly from their home to their airline's domicile to begin their trips, it's perfectly acceptable to commute and live wherever you choose.  Some pilots, however, would find such a commute stressful and undesirable so therefore chose to live in their assigned domicile.  Regardless, the pilot can choose to live "in base" or anywhere else, as desired.  Few jobs offer that type of flexibility.
This is more for career changers, but unlike other professions where once you hit a "certain age" it becomes more and more difficult to find employment, in the airline business the airlines don't really seem to care how old one is.  In particular, during the short periods of time of airline economic growth where regional airlines get desperate for anyone to take their low paying, low quality, entry-level jobs, they'll hire just about anyone who meets minimum qualifications.  You could be 60 years old for all they care.  If you meet their minimum requirements and can withstand the financially difficult regional airline first officer lifestyle, the job will likely be yours!
Many professionals, even when at home, are still chained to their company.  Even on days off, they still may be required to answer e-mails, texts, or phone calls. Typically when you set the parking brake on the last leg of your last day, that's it.  You don't take your job home with you.  There may be some times where you might have to do a little "homework" for the job (like preparing for your check rides or upgrades) but again, for the most part, unless you're on call you are not required to answer your phone or be "available" to the company.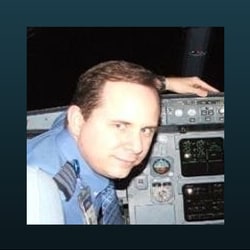 Simply put, getting an a320 type rating from AeroStar Training Services in Orlando, Florida will enrich your life and open the door to a rewarding career flying all over the world in one of the greatest aircraft ever designed. For more information about getting a type rating or pilot career advice please email [email protected] or call us at (407)888-9011 to speak to one of our specialist. Please visit our website for more info & download our free course catalog www.AeroStarTypeRatings.com