Flight Attendant Training Program in Kissimmee, Florida
Learn more about our flight attendant training program below!
Love to Fly? Want the Chance to Travel? Seeking a Career Change? Our Flight Attendant Training Course Can Help! This program was designed by & is instructed by industry professionals with many years of Flight Attendant & Airline Training Experience. 
Get ahead of your peers & take our 3-day course, which is recognized and preferred by many airlines. International students accepted! B1/B2 visa is required for training. All students must be 18 or older with a GED/high school diploma.
The training we provide exceeds the minimum standards set by the FAA. Our program provides the knowledge necessary to perfect your skills as a flight attendant with complete confidence and the highest level of safety. Enrolling gives you the chance to gain in-depth knowledge and a guaranteed interview with the airlines. Train. Get Hired. Fast.
*Travel expenses, lodging, and meals are the responsibility of the individual. 
3-Day Flight Attendant Training Course
Location: Kissimmee, Florida at the Kissimmee Gateway Airport
Total cost is $750 (includes $300 non-refundable deposit required to secure your spot & all necessary training materials, excludes travel expenses).
Registration closes 2 weeks prior to class start date, payment is due in full on this date.
Upcoming Course Dates:
February 12-14th
April  23-25th
June 18-20th
August 13-15th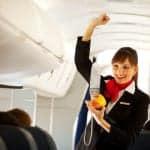 Curriculum:
Hands-on training
Interview & resume prep
Airline recruiters conduct on-site interviews
Certification of completion
& much more!
Flight Attendant Career Facts:
What's the First Step?
The first step is to fill out our application, then someone from AeroStar will contact you shortly to notify you of your training status. We look forward to having you train with us! Complete the form to request more information.
Questions? Contact us at (407) 888-9011 or email us at info@aerostartyperatings.com
Need Financial Assistance?
We have financing options available for domestic pilots that can make your training costs more affordable. Apply today and get approved within 24 hours. Visit our section on Scholarship & Financing to learn more!
To request more information and receive a copy of our 2017 full course catalog,
please fill out the form.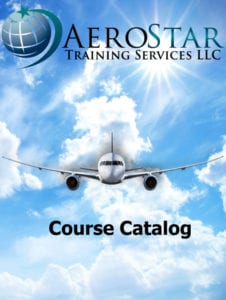 Note: Emails may periodically go to junk folders as a result of email provider spam filters. Please add info@aerostartyperatings.com and your point of contact's email to your Safe Sender List in order to ensure receipt of important training emails from us.