FTSP Application Instructions

FTSP Application Instructions for Category 1, 2 & 3 Applicants
AeroStar Training Takes Place in the United States of America.
To enter the United States as a flight student, the Transportation Security Administration (TSA) has established a program for foreign students called Flight Training Security Program (FTSP).  Below you will find information on applicability and step-by-step guidance on submitting a request to the enrollment center for flight training.
Any questions about the FTSP may also be directed to the FTSP Help Desk at (571) 227-1004 or [email protected]. Please review FTSP's Help Desk guidelines before contacting the Help Desk.
FTSP Application Instructions:
Step 1:

Request an account to access the p

rogram 

by completing the account request form. You will access the FTSP website:

FTSP Home (dhs.gov)
Once there, go the section that says Create A New Account.
Click 'ENTER', follow the instructions on how to set up your account with FTSP. Remember to submit personal information exactly as it appears on your passport.
Step 2: A User ID and password will be emailed to the flight-training candidate by FTSP. This allows you to access the web site and complete the application.
Step 3: Complete online forms with the following information:
A.   Residence and citizenship;
B.   Places and terms of employment;
C.   Details of the requested training; (See A & B below)
D.   Other background information.
E.   Candidate must select Florida, then Aerostar Training Services
F.   Additional information such as:
Course ID – 101
Course Name
– The type of aircraft followed by the nature of training. Examples: B737 type ratings, A320 type ratings, Private, Instrument, Commercial, or
atp ctp
.
Aircraft – The type of aircraft. Examples: B737NG, A320, Cessna 172.
Step 4: When you complete the application, you will be redirected to the home page where you will need to go to the bottom of the page and select the "Validate & Submit" button. If there are any errors in the application, they will need to be corrected before continuing.
Note: The application will not be considered submitted until this process is completed. This is different from the Trusted Traveler programs.
Step 5: Upon submission of the completed forms, the training provider will be able to validate the candidate's application on the FTSP website.
Step 6: Upon validation of the candidate by the training provider, you will receive an email from FTSP advising  to pay the $130 processing fee. You can do so by going to the bottom of the application form. (Last button on the right with a $ dollar sign in it). This will take you to the fee payment form.
Step 7: FTSP will send confirmation of payment along with instructions for your fingerprinting process.
Step 8: After the fingerprints have been submitted to Washington, the FTSP will send an email confirming receipt of the fingerprints. This begins the waiting period clock – 30 days for CAT 1; 5 days for CAT 2.
Step 9: Student/Candidate  MUST monitor all email messages from FTSP in case they send an email requesting additional information.
Step 10: FTSP will submit a written approval to begin training. Upon completion of all of these steps, training may commence.
It is important all applicants notify us via email their FTSP app has been submitted.
Application Instructions for Category 4 (Recurrent Training) Applicants:
Step 1:
Flight training candidate requests an account to access the FTSP by completing the account request form. You will access the FTSP website:
FTSP Home (dhs.gov)
If you already have an account with FTSP, log-in to your account and update the personal information, documents and go to training request section.
Step 2: Once you have opened the account you will need to create a User ID and Password.  Your User ID and Password are your personal identifiers unique to the FTSP.  You will use this UID & PW each time you need to enter a new training application with TSA.  Do not lose this information or you will need to contact FTSP via email requesting a new UID & PW in order to continue with an application process.
Step 3: Recurrent Training applicants must complete steps 1 thru step 6 in the Category 4 Recurrent Training Section of the FTSP pre website. Please input your personal information exactly as it appears on your documents (Passport, Visa and Pilot License). If the name that appears on your passport is different in any way from the name that appears on your pilot license, because you have shortened it or modified in any way, then you must complete the section for A/K/A/ alias name. Do not submit a license and a passport where names do not match without completing this section or your application will not be processed.
Step 4: Submit and upload images of each document, passport, pilot license (must show current type rating for equipment in which training is being requested), visa, separately for each document.
Step 5: Select the provider: First select the Provider Location, then click on the SEARCH button. The list of Providers  and enrollment centers will be listed and you will select AeroStar Training Services as provider.
Step 6: Click on the Icon " Category 4 " Recurrent training request." A new window will open.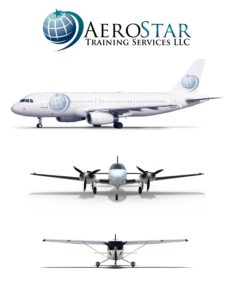 Call Us Today!
Or
for more information please email
Note – this is different from the TSA pre check or TSA Trusted Traveler Programs.