Aussie Chris Cain recently earned his A320 Type Rating at AeroStar, and talks about his experience here.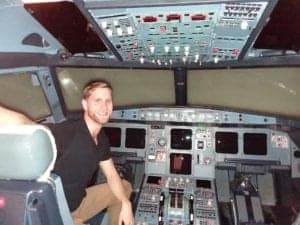 I started my flight training at Lilydale Flight School approx. 40km out of Melbourne city in the state of Victoria, Australia back in 2007. I gained my student pilot license and was able to fly solo one week prior to my 17th birthday. After working as an avionics technician on helicopters for the army for 6 years, I continued with my pilot training in Darwin in the Northern Territory. I completed my commercial pilots license over 2015-2017 and gained a lot of exposure to outback charter flying during my time there. The aircraft I predominantly flew were the Cessna models 172, 182 and 210. I completed a multi engine endorsement and instrument rating back down in Melbourne as necessary to advance my career towards the end of 2017, flying a Beechcraft Travel Air. Soon after completing this training I also finished all Airline Transport Pilot License exams and I was looking at completing a type rating course on a heavy jet aircraft soon after to gain a further advancement of being hired by an airline in a first officer position. 
I looked around online for several type rating courses overseas due to the high pricing of Type Ratings in Australia and decided on AeroStar after taking a friends advice due to his good experience and recommendation of AeroStar. I decided on the Airbus A320 aircraft as I wanted to work in an airline in south east Asia where Airbus aircraft are more dominant. AeroStar also offered a very fast paced and inexpensive type rating which suited both my financial and time limited situation. 
My experience with AeroStar was very positive as the focus was learning all the systems of the aircraft whilst at the same time understanding the operations required by both the First Officer and Captain positions, which allowed a faster paced training period. I also got the chance to meet many captains and first officer pilots that were already operating the Airbus A320 or similar Heavy Jet aircraft, allowing a better insight into how different Airlines in different parts of the world operate. This also provided great contacts for future career opportunities outside my initial choice of south east Asia as a starting location for airline employment. The instructors at AeroStar had a wealth of experience both on the Airbus A320 and also other heavy jet aircraft including many Boeing models. I found that a large majority of the staff were currently working for airlines in the USA and had also previously worked overseas. I got to experience training with 6 different instructors, both during the ground school and simulator components, which offered different tips and training styles allowing me to choose an operating style which best suited my learning abilities, being a more practical and hands on method.
In total I spent 26 days studying the Airbus a320 type rating and came out with a very good understanding of the aircraft which will be built upon when employed by an airline. Three weeks after finishing with AeroStar I moved to Phnom Penh, Cambodia as my first destination for seeking employment and currently have an interview set up  next week in Vietnam with a flagship airline there.
In all, AeroStar has greatly increased my employment opportunities and has furthered my professional development as a pilot.